Destiny 2 Best Hand Cannons (Ranked)
Updated: 22 Mar 2019 5:47 am
For the best results, remember to double tap.
Top 10 Best Hand Cannons in Destiny 2
Destiny 2 is all about getting your enemies in your crosshairs and pulling the trigger. The Warmind update made landing head shots with Hand Cannons all the sweeter. In both PvP and PvE, Hand Cannons are stronger than ever, and you should strongly consider keeping one in your inventory. And so, we bring you the 10 best Hand Cannons in Destiny 2, along with how to get them. So, sit back, relax, and peruse the top 10 Hand Cannons in Destiny 2. (Many of the following can be obtained from random legendary engrams or from participating in The Crucible, so make sure you follow along with the links provided to get your hands on these Hand Cannons.)
10. Sturm 

Give your enemies a Sturm talking to. 
Weapon Lore:
These ancient ceremonial pistols can be dated back to the early Golden Age. A faded inscription reads, "To Sigrun, from Victor."
Why it's good:
Let's be honest: when Sturm is good, Sturm is really good. When combined with Drang in your energy weapon slot, Sturm can cause massive damage.
Why it's bad:
Well… you need to have Drang to make Sturm a viable option in any way, shape, or form. So, if you're planning on entering the Crucible with just little ol' Sturm, you'd probably better rethink that.
How it's badass:
Sturm's Accomplice Perk means that any kills made with Sturm will automatically refill your energy weapon's clip. Not only that, but when paired with Drang, any kills made with Drang will refill (and overstuff) Sturm's weapon clip for awesome damage dealing potential.
How it's bad:
Without Drang, Sturm is nothing. Yeah, it's got high impact and range, but its rounds per minute are severely wanting, as are its reload time. If you want to viably use Sturm in Destiny 2, bring Drang, too.
How to get Sturm (and Drang):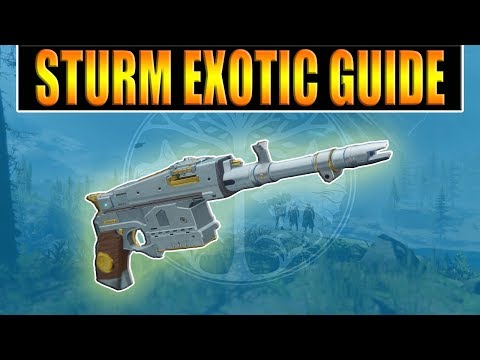 Click above to get Sturm and Drang!
9. IKELOS_HC_V1.0.1
 
What a chilling weapon!
Weapon Lore:
Subroutine IKELOS: Status = reinitiated. APOTHEOSIS: Status = active…
Why it's good:
This is one of the fastest Hand Cannons in the game, with 180 rounds per minute belching flaming fury at your enemies. IKELOS has solid range (which can be upped with perks) which will allow you to be effective in short and mid-range encounters, along with fantastic impact. The IKELOS Hand Cannon is a great weapon from the Warmind expansion.
Why it's bad:
The handling and reload speed of this IKELOS weapon leave a lot to be desired. If you're going into battle with a Hand Cannon, you want one that can whip around from enemy to enemy quickly, and this Hand Cannon does not do that as well as others on this list.
How it's badass:
Rampage and Threat Detector, two perks which you'll have to choose between, make this a fantastic weapon. Rampage stacks damage with kills, while Threat Detector decreases reload time while increasing stability and handling when enemies are nearby. Either option is a fantastic way to go. It all depends on your playstyle.
How it's bad:
Having to choose between Rampage and Threat Detector, rather than getting both automatically, is a real pain. Together, they would make IKELOS_HC_V1.0.1 an unbeatable weapon. Separately, they make it a fun, yet flawed, choice.
How to get IKELOS_HC_V1.0.1: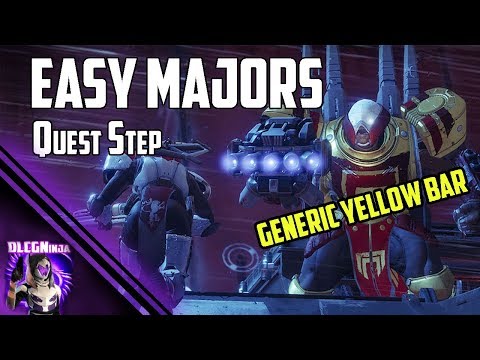 Click above to get IKELOS_HC_V1.0.1!
8. Dire Promise 

Keep your promises.
Weapon Lore:
"If you think this world ends well, you are mistaken." -Arach Jalaal
Why it's good:
It's a fast gun with high impact, high stability and high handling stats. That means it's quick to the draw, and quick to the kill. Which also means that you should want to have it in your arsenal.
Why it's bad:
Neither the reloading speed nor the range of Dire Promise are exciting. This is a good close range, one on one gunfight type of weapon. You shouldn't try sniping with this (not that you would… but don't.).
How it's badass:
Two words: Triple Tap. If you have the precision chops to pair with Dire Promise, then you will be automatically refilling its magazine quite a lot. Keep hitting your enemies in the face (or other soft spots), and you'll get more and more ammo added to the clip for more and more damage.
How it's bad:
If you're not good at hitting those precision shots, then Dire Promise is not a weapon you should be using. So, get good, or choose a new weapon, because Dire Promise holds value only for those who aim true.
How to get Dire Promise:
7. The Old Fashioned

Why can't things just stay the same?
Weapon Lore:
This is the way things were.
Why it's good:
That fantastic amount of impact you see up there? Yeah, it's good, and if you keep landing shots with The Old Fashioned, you're going to be pleased with the results.
Why it's bad:
The Old Fashioned has a smaller magazine and a longer reload speed than many Hand Cannons on this list. This means that once your magazine is spent, you might be using precious seconds reloading when you could be peppering incoming enemies with outgoing bullets.
How it's badass:
The Kill Clip perk means that if you reload right after a kill, The Old Fashioned's damage increases. So, the more hits you land, the more damage you do, and the more damage you do, the more fun you have! That's math.
How it's bad:
The only way for Kill Clip to really work in your favor is to reload after every kill, and the Reload Speed of The Old Fashioned makes that a tough pill to swallow. If it's one you can swallow, then you'll find yourself treated to a fantastic damage dealing weapon.
How to get The Old Fashioned: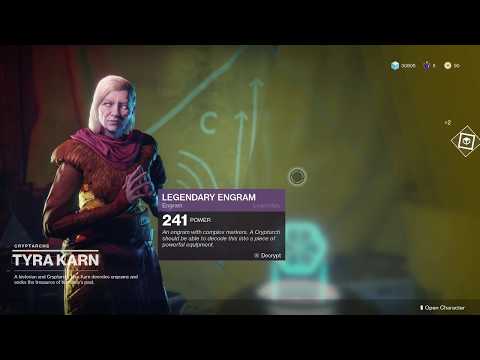 Click above to get The Old Fashioned!
6. The Steady Hand
 
Eyes forward, hands steady, Guardian.
Weapon Lore:
Forged in honor of Perun, and a just and unwavering resolve.
Why it's good:
The impact of The Steady Hand will leave a crater sized hole in the center of enemy heads. And it will do it from a distance, too.
Why it's bad:
Unfortunately, that damage output comes at the price of stability and handling. Every shot with The Steady Hand causes recoil a fair bit more than most of the weapons on this list.
How it's badass:
While The Steady Hand's reload speed generally leaves quite a lot wanting, its access to the Outlaw Perk evens this dilemma out. Precision kills with this Hand Cannon greatly reduce Reload Speed, which means you can keep the shots pouring while your enemies attempt to flee. It's really a swell investment.
How it's bad:
This isn't a close-range weapon, as the high recoil on this weapon should indicate. This is a mid-range weapon, which should be paired with something nimbler if you want to get up close and personal with your foes.
How to get The Steady Hand: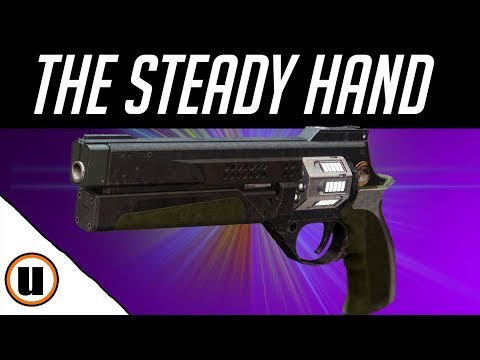 Click above to get The Steady Hand!
5. Midnight Coup

Take a ride in this suped up Coup.
Weapon Lore:
The conspirators were too afraid to kill me—rightly so. I am the beloved father of the people, and the glorious mob would not suffer my death. My sentence was exile.
Why it's good:
Do you like doing a lot of damage quickly? If you do, then Midnight Coup is the Hand Cannon for you.
Why it's bad:
Midnight Coup won't win you any distance medals in marksmanship. This is more of a close/mid-range option.
Why it's badass:
The perks for this weapon are amazing. Rampage stacks damage (up to 3 times) after kills. Marksman decreases the reload time of Midnight Coup after precision kills. That combination means you'll never run out of high damage blasts to your enemies.
Why it's bad:
There aren't a whole lot of negatives to this weapon. Yes, it could do with a tad more range, but, really, do you need any more power than you already have?
How to get Midnight Coup: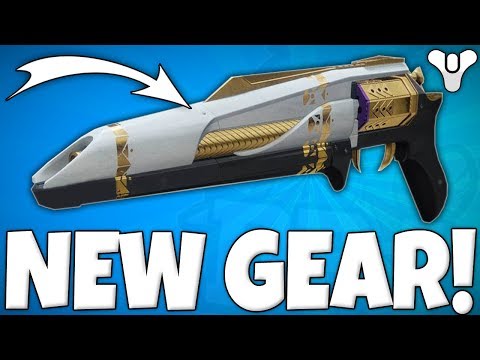 Click above to get Midnight Coup!
4. Nature of the Beast

Don't deny your instincts.
Weapon Lore:
Don't let them change you.
Why it's good:
This is one of the fastest Hand Cannons there is, with 180 shots per minute. Not only that, but with a high impact and stability this Hand Cannon packs an awesome punch in close to mid-range encounters.
Why it's bad:
Like most Hand Cannons, Nature of the Beast doesn't have the best of reloading times. If you're in a pickle and you need to fire quickly, Nature of the Beast won't do you any favors.
How it's badass:
The Dragonfly Perk causes precision kills on enemies to turn into explosions. That means you can do elemental damage to enemy fireteams, or quickly clear out ads. This weapon packs a serious punch.
How it's bad:
There's not a lot to say about this gun negatively, other than that it can't reload as quickly as some of the other Hand Cannons on this list. It has long range and awesome perks, so what more could you want?
How to get Nature of the Beast:
3. Sunshot
Better get some shades.
Weapon Lore:
"Can't outrun the sunrise." – Liu Feng
Why it's good:
This weapon doesn't have any negative stats, and in fact is positive across the board. Its impact, handling, and reload speed are all very high for a Hand Cannon. If you want to rip through enemy fireteams, you could do worse than choosing Sunshot.
Why it's bad:
Sunshot is a weapon that is easily attainable by completing storyline missions, so it's one of the more popular weapons in The Crucible, which means the worst thing about it is if you aren't using it, someone else most definitely is.
How it's badass:
Awesome stats aside, the Sunshot also has perks that increase its range and handling to impressive levels. Sunshot also fires explosive rounds, meaning that your targets take additional damage when hit. It's absolutely one of the best weapons in the game.
How it's bad:
Again, this is a very easily attained weapon. Everyone has one so you might not feel as awesome wielding it as some of the more difficult weapons to get on this list.
How to get Sunshot:
2. Better Devils

Better the Devil you know.
Weapon Lore:
Angels can't help you here.
Why it's good:
This is a fantastic Hand Cannon at any range because of its handling and stability. Better Devils's reload speed is wonderful, and all of that combined makes this an absolute must for your loadout.
Why it's bad:
Like the Sunshot, this weapon is easy to get if you play a lot of Crucible. This means that everyone's got access to it, and that means that you must watch out for enemies with Better Devils in their arsenal.
How it's badass:
Combining the amazing stats of Better Devils with the Explosive Payload perk is just unfair. Not only can you land precision shots like a pro with Better Devils, but any shot you land causes damage to enemies in the area, as well as extra damage to your original target.
How it's bad:
Again, this weapon is extremely common, and you will find yourself up against it at some point. It's the number 2 most used weapon in the Crucible right now.
How to get Better Devils:
1. Crimson

The rivers will run red.
Weapon Lore:
According to official Vanguard policy, this weapon does not exist.
Why it's good:
This is a high impact, high range, high stability Hand Cannon with 24 rounds in its magazine. Crimson will knock your enemies down a peg or three every time you pull the trigger, and it'll keep on shooting.
Why it's bad:
It's not. Seriously, that's it. This is a fantastic weapon, and one in many Guardians arsenals as it's a easily obtained drop. Xur also sells it occasionally. When you get the chance, get Crimson.
How it's badass:
Crimson fires off three round bursts per the Banned Weapon perk. If you can string together head shots with Crimson, you can down enemy guardians or bosses quickly and thoroughly. Every pull of the trigger is a fantastic chance to see your foe's insides.
How it's bad:
Again, everyone has Crimson. It's a must in Crucible play, and it translates well to PvE as well. If you aren't using it, you will most definitely be killed by it. Consider yourself warned.
How to get Crimson:
Click above to get Crimson!
You may also be interested in:
Image Gallery